Today, I want to give you an amway car, which has a gray body, a 26-inch body and a 7kg weight. We can generalize it with two words. It is the Nimbus Hatchet mountain unicycle, also known as the axe unicycle.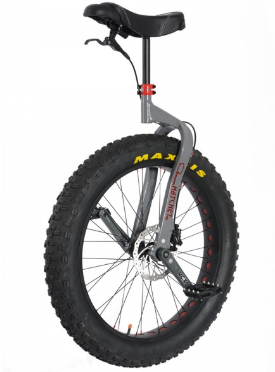 One-wheel China and many foreign famous brands have close cooperation, such as Kris Holm, Impact, Nimbus, UDC Club, Qu - Ax, etc., and the "axe" comes from Nimbus, this product is currently the sole wheel is selling in China, price 5400 yuan, interested in fast start.

Hatchet is an upgraded version of Oregon, and Nimbus Hatchet is more "fat" than the Nimbus oregonian, which makes cyclists feel more comfortable and stable on the mountain. Hatchet frame is characteristic, its frame with disc brake, can let the clamp device installed more accurate, in addition, its frame is slightly backwards, this is because the fat tire unicycle requires the use of super wide frame, but so cycling leg will easily run into the frame, and the design of the frame (one-way can let a leg and the clearance between the frame make more, the perfect solved the problem.

The upgraded "axe" allows cyclists to be more comfortable and less fatigued during their journey into the mountains, allowing cyclists to focus more on the fun of taking risks. Buy an "axe", call your partner, and walk around the nearby hill country, and you'll find the fun.