Unicycle-china.cn represents Unicycle.com , the biggest supplier of unicycles and gears. Our online store focuses only on unicycles, so you have a great opportunity to buy quality unicycle from the warehouse in Guangzhou.
You can buy unicycles and gears of the most famous and high quality brands in our online store: Kris Holm, Impact, Nimbus, UDC Club, Qu-Ax. At Unicycle.com we are all unicyclists and have many years experience in unicycling - we know what is good and bad in a unicycle! We are a specialist unicyclist store with hundreds of unicycles and unicycle accessories. Anyway, you can always place a special order, and we deliver it within shortest time.


DURING ONE WEEK (04.07 – 04.14) WE OFFER 10% DISCOUNT AND FREE DELIVERY FOR UNICYCLES AT STOCK!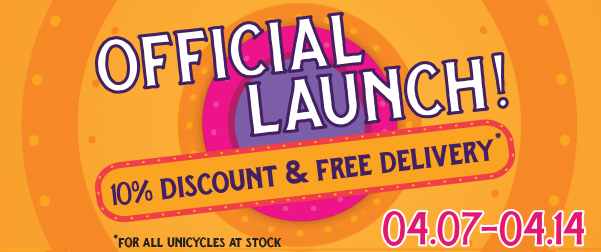 Buying from Unicycle.com should be a simple and pleasurable experience. You can buy from Unicycle.com by many methods online using Alipay, Wechat money, through the website or call us on +86 150 117 00 195 and we will process your order, delivering it to your door.
Follow us in WeChat to know the latest news about unicycles, gears, our special offers, activities:
unicycledotcom

We are in facebook: https://www.facebook.com/unicyclechina/
We are in Instagram: www.instagram.com/unicycle.com_china